Lessons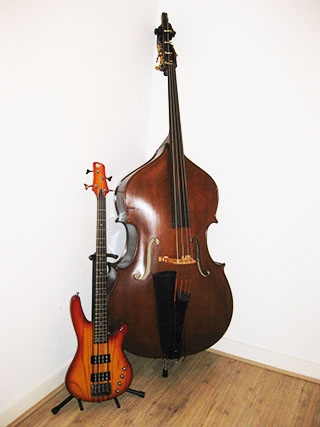 Double bass, bass guitar and songwriting lessons available one-to-one in London or online via Video Skype.
All levels welcome from complete beginner to advanced players who want to refine their skills. Lessons tailored to individual goals with a focus on healthy playing habits to avoid injury, influenced by the Alexander Technique. Salima balances technique training with fun pieces for a well-rounded approach to making music. She answers questions like how to rent or buy your first instrument, how to become a professional musician and how to juggle music as a hobby in a busy work/home schedule.
Having played for 17 years, Salima is a performing professional with over 11 years of teaching experience. Student ages range from 6 to over 60 years. Conservatory trained at Juilliard (B.M.) and Guildhall (M.M.). Please see CV for more details.
To express your interest, please send an email.
TESTIMONIALS
"I have been studying the double bass with Salima Barday since June 2011 and I am always amazed at her ability to guide me through the challenges that this imposing instrument confronts one with. As a physiotherapist I am extremely appreciative of Salima's attention to postural correction from the offset and therefore the prevention of possible repetitive strain type injuries. A teacher should inspire her students and after 3 years I am even more passionate about the instrument now than when I first started. Lessons with Salima are challenging, thought provoking but always enjoyable."
-Tony Kosoko (2011-present)
"Thanks for your lessons. I've never had music lessons prior to yourself (besides a couple of aborted attempts with others last year) – you really teach very well and focus very quickly and precisely on anything that needs work, but without overloading me. It's really inspiring, and improving on the instrument and also improving musically on some levels (through focus and direction) gives me great joy."
-JN (2011-present)
"As someone looking to learn music more formally, I find Salima patient and full of useful tricks for remembering things. Before I was muddling through, not really knowing what I needed to learn, now I have some structure and I feel like I'm really making progress. She also lives right by a bus stop so it's easy to get your bass there and back."
-CD (2010-2012)